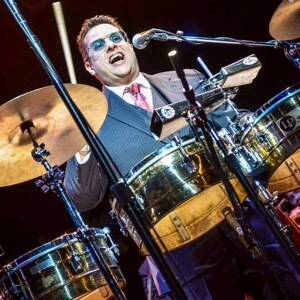 (Originally released on 03.06.18. See ThanksForSittingIn.com for complete show notes & photos)
In Spanish, "puente" means bridge. Tito Jr, the son of the legendary Tito Puente has managed to "bridge" his fathers legacy of incredible music to a new generation of fans and musicians. From growing up playing drums in death metal bands to leading his own orchestra, Tito Jr. has traveled the world sharing the music and style of his father.
You can't discuss Latin music or music in general without mentioning the great Tito Puente. After his passing, his son Tito Jr. decided to keep his fathers legacy of incredible music alive by forming his own orchestra and exposing his fathers music to a new generation. His remix of '"Oye Como Va" shot up the charts and won a Latin Grammy award. Tito Jr. has toured the world in front of sell out crowds as he continues to inspire and share his fathers music. Tito Jr. is working on a new album and his latest release "Mi Socio" became an instant hit. If you want to hear timeless music and dance a little, or a lot, go see Tito Puente Jr. when he comes to your town.
We recorded this episode as Tito Jr. relaxed at his South Florida home. This session was insightful, at times serious, at times hilarious. We think you'll enjoy this episode and learn more about Latin music and the legacy of Tito, Tito Jr and their music.
SHOW NOTES:
Growing up with dad
Playing drums and listening to death metal
Latin drummers are Familia
Ricardo meeting Tito in concert
Being a bandleader
The Puente Sound
Advice for students and young musicians
You Gotta Learn to Read!!
Network with other musicians and you'll always work
Latin Music today
Working with A.B. Quintanella
Re-recording "Oye Como Va"
The void Tito left and carrying on the legacy
Mexican Artists & Female Artists
Tito touring the world
The Power of Music: Jenn Kaye
Parkland Florida School Shooting
RAPID FIRE!
Willie Colon
Carlos Enriquez (one of many…)
Victor Manuelle
Celia Cruz
Santos Colon
Charlie & Eddie Palmieri
Machito
Dizzy Gillespie
Future (one of the best answers of any episode)
Follow Tito on his Facebook page
Follow TFSI on Instagram