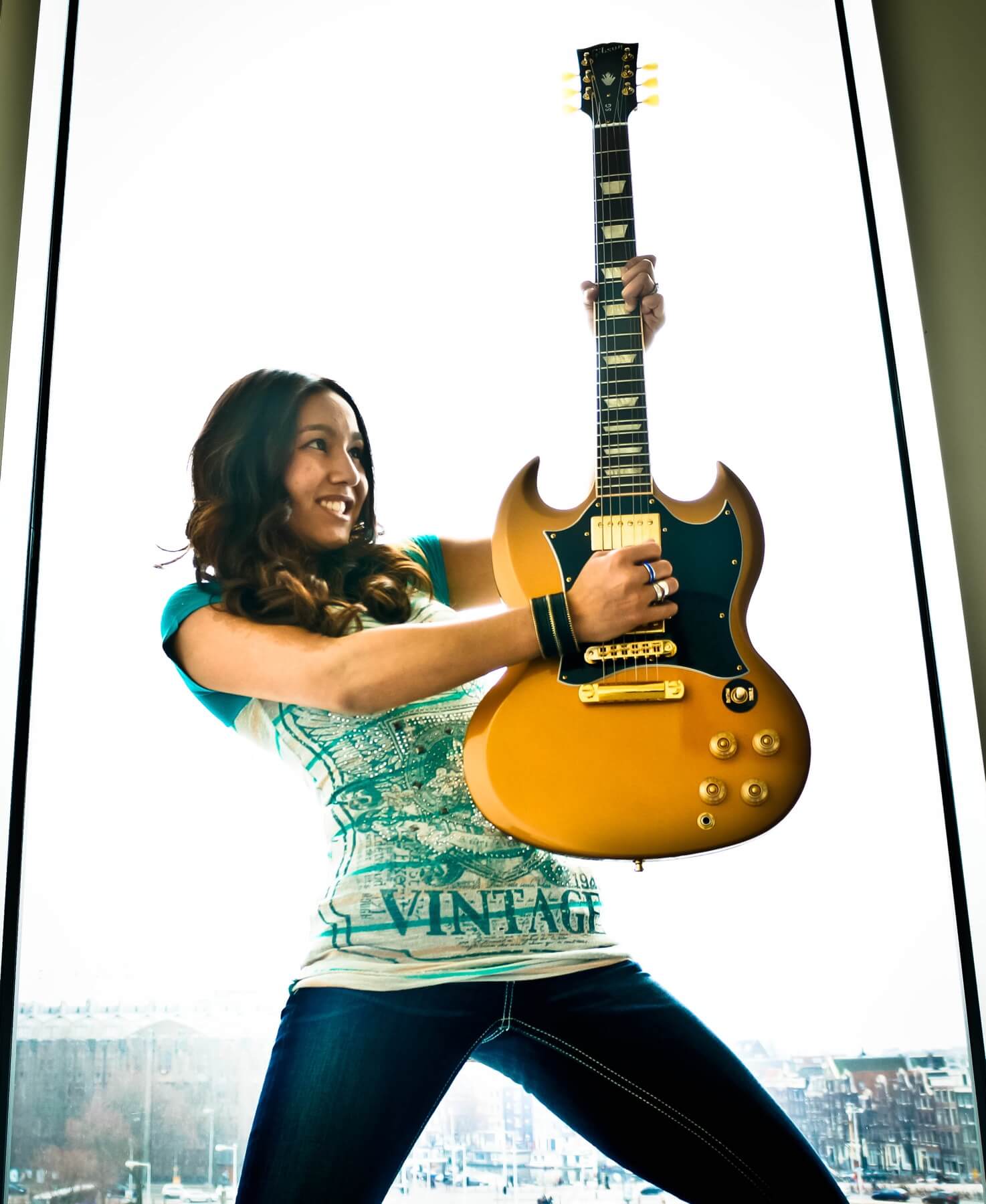 (Originally released on 02.27.18. See ThanksForSittingIn.com for complete show notes & photos)
Imagine being asked to perform on a three year world tour with Cirque du Soleil as the featured guitarist for the Michael Jackson:Immortal tour. At the age of 17. Imagine sharing the stage with Sammy Hagar, Ted Nugent, the Marshall Tucker Band, Living Color, Foghat and many others.
Imagine releasing your first of three albums at age 16. Imagine having Joe Satriani (among others) as your guitar hero. Desiree Apolonio Bassett has done this and much more all before the age of 26! She is a talented musician, songwriter and producer and continues to gain respect and admiration from her fans and her musician peers.
Desiree's parents recognized her talent and encouraged her to perform at age three. By age nine she was taking guitar and vocal lessons at the University of Connecticut music program. Desiree dove deep into listening to all music, continuing her training and began to write her own music. At age 12 Desiree won the Talent America's Musician of Year in New York City.
She continued to perform in her teen years drawing rave reviews and respect from her peers. At 15, she recorded her first album, "Power & Force". She also was invited to play with Sammy Hagar, Jimmie Vaughn and others. By 17, she was asked to be lead guitarist for the Michael Jackson:Immortal World Tour following in the footsteps of Jennifer Batten and Orianthi. The tour would last three years.
Since then Desiree has recorded two more albums of original music, toured the world, sat in with some of music's best musicians and performs with her own band, Time Machine. During the Immortal tour, she also learned about doing her own face make up and you'll see her at trade shows and performances wearing her unique style of designs.
At age twenty five, guitarist, songwriter, producer, Desiree Apolonio Bassett has a very bright future ahead.
SHOW NOTES:
Starting to play guitar at age three!
Private lessons and performing live
The "A-ha" moment at age 12
Forming her band "Time Machine" at 15
Family and support system
The awesome Cirque du Soleil; Michael Jackson: Immortal Tour story
Getting the gig
Creating her make up / persona for the tour
Most memorable performance during the tour
The Legacy Tour with William Hall
Performing with Time Machine
Moving to Las Vegas?
Advice for young musicians
Dealing with anxiety and depression
Advice for male musicians working with female musicians
RAPID FIRE!
Michael Jackson
Desiree's Favorite Guitarist (hint: Joe Satriani)
Favorite music to listen to (hint: Killswitch Engage)
What has changed most in the industry?
Desiree's band – Time Machine
Pedals & effects
FUTURE
Mike Kerr & Brazilian musicians
"Stay true to yourself and have fun with what you're doing!"
Desiree's website & merchandise
Follow TFSI on Instagram