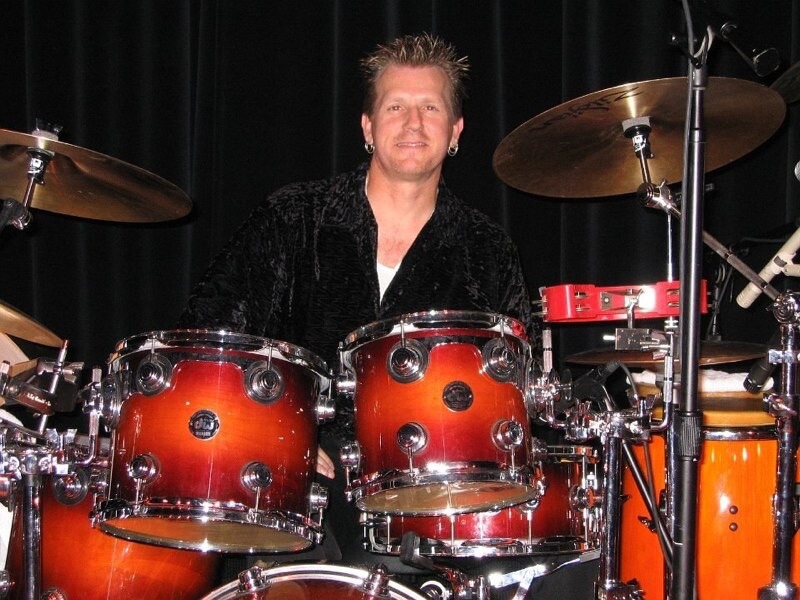 (Originally released on 02.20.18. See ThanksForSittingIn.com for complete show notes & photos)
When two drummers get together, drums and drumming usually crawls into the conversation. Veteran drummer John Lewis and Ricardo met in a coffee shop in Scottsdale, AZ and talked percussion, the importance of reading music, respecting your fellow musicians and music in general.
John shares his experiences and knowledge of music in this episode. Note: On location sessions usually have background sounds. This episode has customers ordering and drinking coffee, conversations and emergency vehicles driving by. Just how we like it. Real.
John Lewis is a much in demand musician who has been drumming since age nine. He has recorded and toured with Melissa Manchester, Willie Nelson, The 5th Dimension, The Judds, Natalie Cole, Gary Puckett, Rick Braun, Michael McDonald, M.C. Ren, Gloria Trevi and tons more artists. Among his other projects include jingles, film and television recordings for Toyota, Pioneer stereos, Beverly Hills 90210, Melrose Place, and Disney shows.
John's extensive experience in all genres, touring and studio work gives him the knowledge to offer advise to all musicians no matter their level of talent or experience. John is endorsed by DW Drums, Zidjian cymbals, Pro-Mark sticks, Rhythm Tech and Aquarian drum heads.
SHOW NOTES:
John's roots and musical education
Electric drums & triggers
The importance of Networking & "Social" media for musicians
The importance of studying and reading music (MAIN TAKEAWAY #1)
Playing "musically"
How to keep working as a musician (Always keep learning)
What you need to know as a musician starting out (Hint: Be responsible!)
The chemistry of being a touring musician
Why music is like being a doctor (Make 'em feel good!)
Click tracks and sampling
Working with other percussionists (Stay in your lane!)
RAPID FIRE!
(including commentary on Steve Gadd, Dave Weckl, Chris Coleman and Jeff Porcaro & Toto)
Most memorable musical moment
Most disappointing gig
John's "A-Ha" drum moment
The ultimate Jeff Porcaro tip if your snare drum head breaks
A song that John relentlessly practiced until he got it down
Favorite drummer per genre ( And a quick Google search…)
Future
An artist deserving more recognition (with John's take on "Exposure")
Gavin Harrison & Simon Phillips
"Some of the best stuff is hidden deep in the record"
PUT. DOWN. YOUR. CELLPHONE!!!!
The Pay, The Music , The Hang (Enjoy playing!)
More on John through his website
Follow TFSI on Instagram