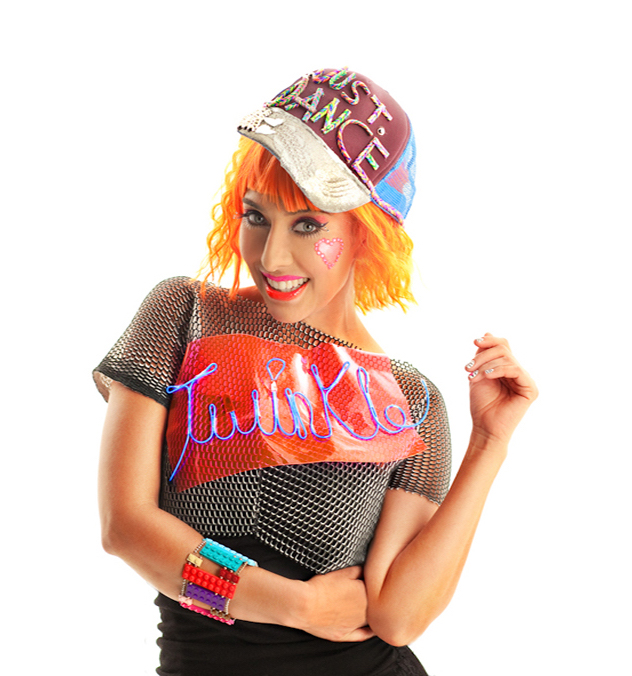 Described as "like Lady Gaga for kids," with a super pop sound mixed with a touch of Broadway belt, a sparkling soupçon of hip hop, and plenty of EDM glam, Twinkle  has always danced to the beat of her own drum, breaking barriers, sound and otherwise, with both her music and Harajuku-style presentation. Performing since the age of five doing television, stage and musical theater. As a tween, she was a series regular in the first Spanish family comedy, Sanchez of Bel Air, for the USA network, and she also had a recurring role on NBC's My Two Dads.
Twinkle later formed the Billboard charting hit girl band, Nobody's Angel, which was quickly signed by Hollywood Records/Disney and released their debut album in 2000. They opened for Britney Spears and The Backstreet Boys, sang on movie soundtracks like The Parent Trap, Pokemon, The Wedding Planner, and 102 Dalmatians, and, in 2002, earned a gold record for two of their songs on the Princess Diaries soundtrack.
By creating her own opportunities with her incredible talent, Twinkle found her niche, created her own brand and has taken the kid's pop market by storm. She's recorded several albums, videos and performs throughout the country regularly. However because of AB5, she has had to rethink her business, like many other freelancers and entertainers. She has become a strong voice against the law and has gotten involved with others who have been affected to bring awareness and change the structure of the law.
We discuss her career before AB5 during the first half of our conversation. In the second half, we focus on business and life after AB5 and how important it is to become educated on the subject plus what the future holds for freelancers and entertainers. Be sure to visit her website -twinkleandfriends.com/ and follow her on social media especially on Instagram: @twinkletimeandfriends
For real up to date information and examples on what AB5 has done, visit the 'Freelancers Against AB5' Facebook group.