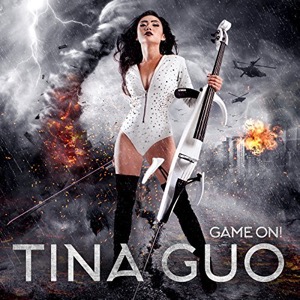 (Originally released on 09.28.17. See ThanksForSittingIn.com for complete show notes & photos)
Tina Guo is a name you may not instantly recognize, but you certainly have heard her music. She is a virtuoso acoustic / electric cellist who has been featured in a multitude of soundtracks like Wonder Woman, Dunkirk, Inception, Pirates Of The Carribean 5, Kung Fu Panda 3, Superman Vs. Batman and many more.
She has toured with Hans Zimmer, was a featured soloist on the Cirque De Soleil's, Michael Jackson "The Immortal" tour, composed music for various TV and movie projects, has released ten albums of her own including her latest "Game On", has released her own line of signature cellos, is very active on social media including her YouTube channel and has performed all over the world with a variety of famous musicians.
Tina is an extremely busy artist and continues to explore her musical and visual expressions. In this episode, she discusses her career, being a female musician, her creative spark and offers advise to aspiring musicians. Tina has fused classical music with her love for metal to create her own unique sound and image.
SHOW NOTES:
Tina's musical beginnings
Developing her own sound on acoustic and electric cello
Creating an image and a brand
Reacting to social media comments
The "Wonder Woman Theme" video
Hans Zimmer
Tina's upcoming solo tour
Tina's line of cellos, bows and strings
The necessity of social media
Being a woman in the industry
Staying focused with a major label
The "Game On" project
Rapid Fire
Favorite Video Game
Favorite Tech toy
Lindsey Stirling
Pizza!
Project Most Proud Of
Favorite Metal Band
Future
Visit Tina on her website!
Follow TFSI on Instagram